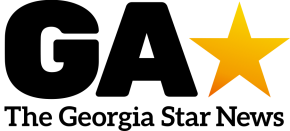 Georgians are about to get a new online news site aggressively pushing a conservative agenda.
With all eyes on the January 5, 2021 elections in Georgia that could decide which party controls the U.S. Senate, Star News Digital Media, a right-leaning collection of five digital newspapers, obviously sees an opportunity to grab some eyeballs, revenue and influence with a new product, The Georgia Star News.
"…we are working hard to get The Georgia Star ready for launch later this week!," Christina Botteri, Executive Editor of the online news sites, told me in an email today (Nov. 16, 2020).
Star News, based in Nashville, TN, launched its first title, The Tennessee Star, in February 2017. Its current digital news outlets include: The Virginia Star, The Ohio Star |The Michigan Star, The Tennessee Star and The Minnesota Sun.
A look at the Nov. 16, 2020 Virginia Star conveys the tone of all the Star News titles, with headlines such as:
· The Empire Struck Back, but MAGA Will Strike Harder
· Voting Software Was 'Designed to Rig Elections,' Trump Attorney Sidney Powell Tells Maria Bartiromo
· Antifa/BLM Terrorists Viciously Attack Women, Children, and Elderly Following Saturday's #MillionMAGAMarch
Further reflecting Star News' leanings is a comment made in a Nov. 18, 2020 Virginia Star commentary by Conrad Black, a former media mogul who was jailed after being found guilty of conspiring with fellow executives to siphon off funds from the sale of media businesses. President Trump pardoned Black in May 2019 after he wrote a book praising the president.
"The Trump campaign to overthrow the political establishment may have stalled, but even if it is narrowly evicted from the White House, and even if the election result is not evidently based on fraudulent dumps of invalid ballots, Trump is not going away," Black wrote in his commentary. "His following is unlikely to defect to anyone else, and so non-galvanizing a leader as Biden at the head of so fissiparous a coalition will not easily deflect the 73 million Trump voters or their formidable convener-in-chief from continuing the battle after no more of a hiatus than Trump's enemies gave him four years ago."
The CEO & Editor-in-Chief of Star News is Michael Patrick Leahy, an early tea party activist, Breitbart contributor and talk radio broadcaster.
In a 2018 Politico story, one of the company's founders, Steve Gill, a conservative commentator and radio host, agreed that "Breitbart of Tennessee" would be a fair description of The Tennessee Star site. Breitbart is a far-right syndicated news, opinion and commentary website. Gill left Star News in August 2019.
Steve Bannon – an outspoken rabble-rouser and one of the driving forces behind Breitbart – became Chief Strategist and Senior Counselor to the President following Donald Trump's election. He left the White House in August 2017, succumbing to power struggles with senior advisors to Trump.
Star News' news sites are just one segment of a slew of rapidly expanding partisan outlets endeavoring to infiltrate our lives.
The Portland Courant, for example, looks like a legitimate news site serving Oregon. If you slide down to the bottom of the home page and click on "About," you'll discover it is put out by Metric Media LLC.
A New York Times investigation published on Oct. 18, 2020 found that Metric Media is "a fast-growing network of nearly 1,300 websites that aim to fill a void left by vanishing local newspapers across the country…The network, now in all 50 states, is built not on traditional journalism but on propaganda ordered up by dozens of conservative think tanks, political operatives, corporate executives and public-relations professionals."
While Metric Media's network is conservative, liberals are financing other "news" outlets such as Courier. This is a network of eight sites started by Acronym, a liberal political group that began covering local news in several states in 2019. Those sites, and others focused on North Carolina, Pennsylvania, and Arizona, are part of the Courier Newsroom network.
So get ready Georgians. You're next. Star News has you squarely in its sights.
Addendum, Nov. 19, 2020
The Georgia Star News debuted on Nov. 19, 2020. The digital newspaper has no connection with The Georgia Star, which bills itself as "Northeast Florida's, Oldest, Largest, Most Read African American Owned Newspaper" or with The Star-News, which serves McCall, Idaho and the mountain communities of West Central Idaho. 
Media Matters, a left-leaning media watchdog, has already criticized the site: "The organization's explicit aim is to deliver pro-Trump propaganda to residents of battleground states, coating local news in the same grievance- and conspiracy-filled vernacular as is used by outlets like The Daily Caller and Breitbart.